7th Annual Give65 Event

As the world moves into a new chapter of the pandemic, aging adults continue to be in need. As they experience isolation and loneliness daily, services supporting older adults remain critical to a healthy aging process. Meals of Joy remains committed to serving aging adults through our programs and services, working every day to fulfill our mission.
The Give65 Event, hosted by Home Instead Charities, provides us with an opportunity to rally our community to support older adults served by our programs. From July 12 to 15, we're participating in the seventh-annual event, a 65-hour online giving event exclusively for charitable organizations serving aging adults. This year, we're raising funds for [insert Give65 fundraising campaign details, make sure to include the impact this program/service has on the aging adults you serve]. Gifts can be made here.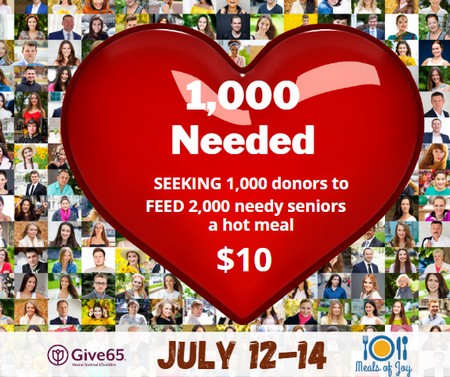 The generosity of the community helps to power the mission of Meals of Joy. To continue serving aging adults, we are asking for support during the Give65 Event. Home Instead Charities is offering matching funds, with each organization participating in the Give65 Event eligible to receive up to $5,000 in matching dollars, while funds are available.
"Give65 allows us to highlight the needs of older adults, help aging adults in our community, and raise critical dollars for the programs and services we offer to our clients," says Meals of Joy founder, Larry Cervarich.
The 65-hour Give65 Event begins at 8 a.m. CDT on Tuesday, July 12 and concludes at 11:00 p.m. MDT on July 14.
"Every individual deserves to age with independence and dignity. Through services offered by [organization], aging adults are supported and celebrated in their aging journey. We are grateful for the opportunity to partner with Give65 for their seventh-annual Give65 Event. The charitable sector serves a critical role in supporting aging adults in need, and we thank all of those who financially support this important work," says Lenli Corbett, executive director of Home Instead Charities.
To learn more about Give65, visit Give65.org. All donations are tax deductible in the United States.